Sports Pitch & Playing Field Construction or Renovation.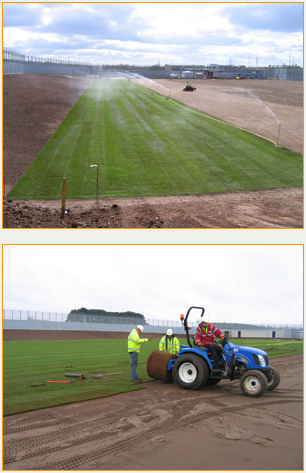 LTL Landscaping offer a comprehensive package of works for the construction of Football & Rugby Pitches, Cricket fields, school playing fields and the renovation of existing surfaces.
For over 25 years we have worked within the sports-turf industry gaining a wealth of knowledge on projects across the UK.
New: A full package of works is available for the CONSTRUCTION of new grass sports surfaces.
Earthmoving & Site Levelling

Stone Burying & Cultivation Work

Grass Seeding

Turf Laying

Aftercare Maintenance: Grass Cutting, Spraying, Fertiliser Application.
Existing: RENOVATION & RE-CONSTRUCTION works for the improvement or re-developing of existing areas.
Site Levelling & Re-modelling

Stone Burying, Soil Conditioning /Soil Renovation

Re-seeding & Re-turfing

Aftercare Management & Advice

Verti-drain De-compaction, Slitting & Aeration

Overseeding

Fertiliser Application & Herbicide Spraying

Seasonal Renovation Work
We are skilled, experienced and equipped with modern specialist machinery to deliver quality services tailored to your individual requirements.
Visit our Gallery or view our Case Studies below for further details of Natural sports turf projects.
Case Studies
Lincoln Gardens Primary School, Scunthorpe. July 2014.
We were initially contacted by the school to discuss a Chafer Grub infestation on the schools playing field and the damage this had caused to the playing surface. Having agreed costings and a detailed programme of works the first stage was to apply an insecticide in March. Once we were certain the infestation had been resolved  the old turf was sprayed off and rotovated up to a loose tilth. Localised low & high spots were leveled out and the field was then re-seeded with a high quality sports field seeds mixture.
Click images to enlarge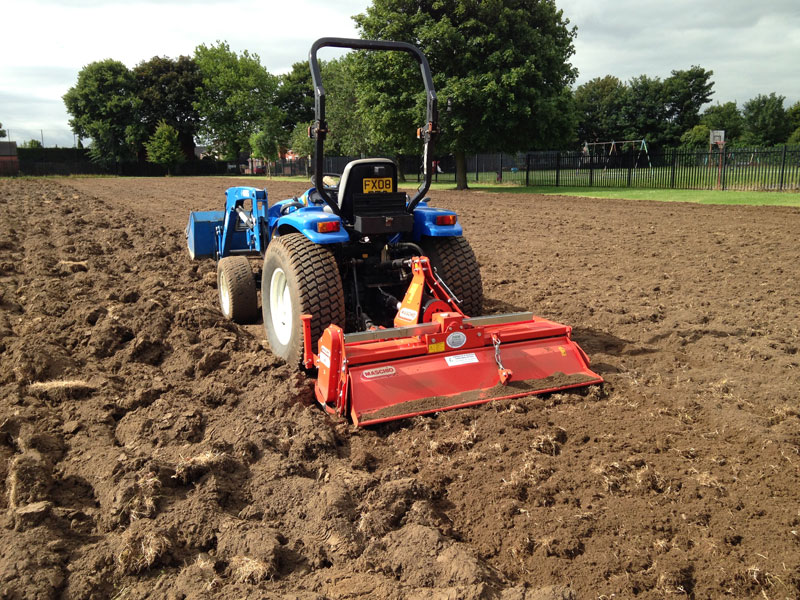 The field was seeded 18th July and benefited from some heavy rain soon afterwards. We completed the first cut just over a month later on 20th July. We subsequently did a further 6 cuts for the school and then handed the completed field back ready for use in the spring.
St Mary's Primary School, Brigg.
Renovation: Cultivation, levelling & re-seeding works
In Spring 2007 we were contacted by the Head teacher at St. Mary's School as the existing playing field had become unsafe to use.
Years of rabbit and mole activity had left the field covered in localised low / high spots and soft areas making it too uneven for football and field sports. After providing a detailed specification and costings we were contracted to spray off the existing area, plough under the old turf, cultivate, level and re-seed.
The first 3 cuts, fertiliser application and selective herbicide treatment were also carried out prior to handover. Work began at Easter and the area was back in use for sports day July of that year barely 4 months later.
Click images to enlarge
Dashwood Primary School, Banbury, Oxfordshire.
New Build
LTL Landscaping were sub-contracted to Stepnell Construction during the building of a new primary school on the site of the old cattle market in Banbury.
Our brief was to cultivate, seed and manage the aftercare of the new school sportsfield following earthworks and drainage by other subcontractors.
After 3 cuts the area was handed over to the client for the opening of the school Autumn 2008.
Click Images to Enlarge
HMP Featherstone.
New Build Rugby Pitch & Landscaping, Wolverhampton

Spring 2009 we were subcontracted by O'Brien Contractors to prepare and turf a new rugby pitch at HMP Featherstone, Wolverhampton. The new playing surface some 10,000m was a rootzone based construction.
We were contracted to prepare and level the surface, supply and lay turf, water and manage the turf until handover.
The pitch surrounds were stone buried and seeded along with reinstatement seeding around a new MUGA in another section of the prison grounds. We subsequently provided grass cutting, fertiliser application and herbicide application for all seeded and turfed areas until handover of the completed facility.
Click Images to Enlarge
Winterton Town Council 2010.
Sports Field Renovation

During June 2010 we were contacted by Winterton Town Council, a large section of the Newport Drive playing field was unsafe for play due to the large amount of stones in the playing surface.
We created a specification and costing for spraying off the existing area, ploughing, power harrowing, levelling, stone burying and re-seeding the 8400m2 . Work began on site late August and seeding was completed by 6th September.
Rolling & Autumn fertiliser application were done during late October. First cut & collect was made late March, then Spring fertiliser application followed by a selective herbicide treatment. Second and third cuts were made before handing the area over to the Client early May.
Click Images to Enlarge
Eastwood School, Leigh on Sea, Essex.
New Build Athletics facility & Infield Area

Early 2011 LTL Landscaping were appointed as subcontractors for a project at Eastwood School in Essex.
O'Brien contractors were acting as Principal contractor on a "Design & Build" contract for the construction of a synthetic "Mondo" 6 lane, 400m IAAF and UK Athletics track with associated field activities.
The Infield area also includes a full size FIFA compliant football pitch.
As subcontractors we were responsible for the cultivation, preparation and seeding of all infield areas, outfield and perimeter reinstatement. The total seeding works were some 17,500m2 
Originally the project with preparation, turf supply & laying specified came in over budget. However our grass seeding, expertise and equipment enabled us to offer an alternative seeding solution to reduce costs and bring the contract value within the Client requirements, without compromising the quality of the end product.
We began work on site on 06/05/2011, completing all cultivation and seeding works by 27/05/2011.
First cut & collect was made on 07/07/2011, followed by a fertiliser application and 2 more cuts.
The site was handed over to the client and their maintenance crew on 23/07/2011. Just over 10 weeks from the seeding date.
Click Images to Enlarge
KLASSIC, Kirton in Lindsey.
New Community Sports Field

During May 2011, we were contacted by a representative of KLASSIC, (Kirton Lindsey Actively Supporting Sport In Community) to provide specification and costing details for the creation of a community sportsfield area.
The 10 acre site had been bought for the community some years previously, having established a car park area and roughly seeding a section of the main field for football, the project had not progressed any further due to lack of funding.
During Spring 2011 the KLASSIC project had now secured the required funding to take the project into its next phase, leveling, stone burying and seeding the entire 8.5 Acres ( 34,000m2 ) designated for football.
O'Brien Contractors were subsequently contacted to survey the site and prepare a model & costings for leveling and earthworks once the entire areas had been sprayed, ploughed and power harrowed to create a "blank canvass".
O'Brien Contractors were appointed to undertake the earthworks and laser leveling early June 2011. Links Turf Layers started work on site 12th June.
Localised leveling, stone burying and seeding works were completed on 28 June 2011.
First cut was made on 29 July 2011. This was followed by a fertiliser application, selective herbicide treatment and grass cutting visits (cut & collect) every 7 to 10 days
Click Images to Enlarge