Specialist Landscaping Equipment.
Specialist Equipment for the Construction, Renovation or Aftercare Maintenance of  Domestic Lawns , Sports Pitches, Golf Courses & Amenity Areas.
We use modern, professional landscaping equipment which is well maintained, safe and efficient to operate. This combined with a wealth of experience enables us to undertake a wide variety of site preparation, grass seeding and turf laying projects. We can accommodate small domestic lawns from 50m² through to Sports pitches and playing fields of many Acres.
We are fully dedicated to Health & Safety in ALL aspects of our work. Our aim is to deliver quality workmanship and results at competitive rates. We are committed to environmental issues and work closely with all of our clients to provide a personal, friendly and professional service.

Cultivation Equipment
Pedestrian cultivators are suited to smaller areas which often have restricted access. They are designed to break up the soil and prepare it for raking, allowing us to work on domestic lawn areas and small sections on sports fields such as goal mouths. For medium sized to large scale jobs, we have two sizes of compact tractors with a full range of specialised implements and attachments. We can also provide a full range of primary and secondary cultivation equipment for Large projects, based around modern large horse power tractors.
Please click on the links below to find out more information on our Specialist Equipment:
Maintenance Equipment : Grass cutting, fertiliser & spray treatment.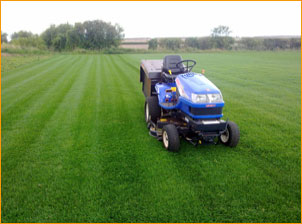 To complete the bespoke service offered by LTL Landscaping we are able to carry out the initial maintenance of newly seeded or turfed areas.
Typically this work will be grass cutting (cut & collect) with either 21 inch pedestrian or 48 inch Rotary ride-on mower. We also offer fertiliser application and selective herbicide application using a knapsack or ATV Quad Bike.
ALL equipment is carefully selected with the intention of establishing new lawns, sports surfaces and amenity areas as quickly as possible and ready for use.
Enquiries are welcome from private householders, property developers, sports clubs & associations, local authorities and schools.
Turf Installation / Turf Laying
We can supply & lay standard (1sq metre) rolls for lawns and smaller areas. For larger projects we use "big rolls" and operate a TIM 755 self propelled Big Roll turf laying machine, or 3 point linkage mounted laying frame to fit on a Compact tractor.
Our efficient laying method eliminates the need for topdressing over any joints later and aiding rapid establishment. We have specially-made turf laying rakes and handtools, ensuring tightly butted joints and edges for small roll turf laying.
Enquiries are welcome from private householders, property developers, sports clubs & associations, local authorities and schools.
Professional Landscaping Equipment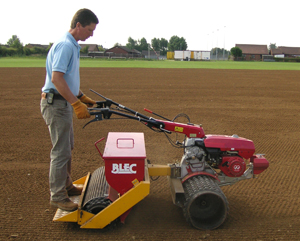 Complimenting the New Holland Compact Tractors, we have a full range of modern landscaping implements including: flail mower, 2 furrow plough, spring-tine cultivator, leveller/grader, Maschio Rotovator, 2 sizes of Rotadairon stone buriers,Fertiliser spreader, water ballast flat roll. Tractor mounted seeder and the BLEC CP 42 Culti-pack self propelled seeder.
For smaller areas and domestic lawns our pedestrian machines include : Honda Rotary Tillers (walking tractors), precision drop-seeders, rotary fertiliser spreaders and water ballast flat roll.
Enquiries are welcome from private householders, property developers, sports clubs & associations, local authorities and schools.
The RotaDairon® Stone Burier / Soil Renovator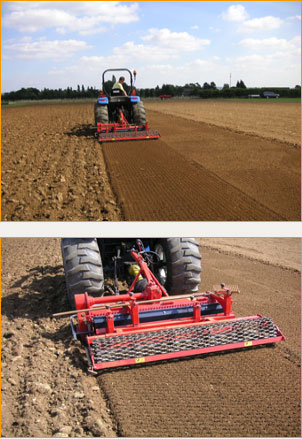 LTL Landscaping have owned and operated the RotaDairon® brand of machine  for more than 20 years. The RotaDairon® Stone Burier/Soil Renovator was the first machine of its kind and is recognised by turf growers and landscapers alike for professional site preparation whatever the soil type or stone content.
In a single pass these all-purpose soil finishers perform the following operations: burying of stones-debris-grass and weeds, fine surface preparation, leveling and rolling. We also have specially designed precision seeder attachments which enables grass seed to be sown at the same time.
The blades of the RotaDairon® machines are contra-rotating,  the centrifugal force of the cultivation process breaking the soil into a fine crumb and grades the soil as the machine travels forward, pushing stones and debris to the bottom the soil profile. Even when the stone content of the soil is low, we still use these machines since they "renovate" or prepare the soil to a very high quality fine grade finish ready for seeding or turf.
To accommodate a variety of turf laying and grass seeding applications our range of stone buriers includes: 1metre 1.5 and 2.5 metre machines. These machines have proven to be the best means of creating optimum conditions for grass seeding and turf laying work and are extremely cost effective.
LTL Landscaping  have undertaken numerous stone burying and soil renovation projects over the years within our own home county of Lincolnshire. We have also worked on new-build sports pitches or renovation projects in Oxfordshire, Surrey, Essex, Cambridgeshire, Cheshire & Jersey in the Channel Islands, etc.
These machines are also favoured by many Turf growers, and i liken our package of works to "Growing turf on-site" when progressing from seedbed preparation and levelling through to first cut and aftercare services on established grass surfaces.
To learn more about our Specialist RotaDairon® stone burying equipment and hire please visit www.stoneburier.co.uk
New Holland Compact Tractors
For over 20 years we have been operating compact tractors including the New Holland TC 35 DA & TC 45 DA (fitted with a Lewis Loader/Bucket combination).
We consider the New Holland machines offer the perfect combination of Horse power, size and operating capabilities,. These can operate in the tightest of spaces when necessary. Compaction & surface disturbance is kept to a minimum with Sensitrak auto 4 wheel drive and turf tyres.
We have the capabilities to easily spread and level soil, collect and remove debris and large stones as we work. We can also get into gardens and smaller access points where a JCB or farm tractor would not fit.